Normally I don't like categorizing artists by place of birth or whatever, but you realize that there are A LOT of really influential Singaporeans in the Mandopop industry.
It is SINGapore, after all, where they all speak SINGlish. (I know. That was so lame.)
But really, when today (hopefully when this gets posted), August 9, 2015, just so happened to be Singapore's 50th Anniversary of Independence, I immediately realized just how many of my favorite artists happened to be Singaporean. No, but really — I sort of was aware of such, but today was the first time I've tried to go and identify them all. All very good lah. ( -_- )
Stefanie Sun: Happy birthday Singapore! #selfygalore #jjandtt
Why is the top cut off
Already we're looking at some pretty big singers here: there's Kit Chan, Stefanie Sun, JJ Lin . . . so, without further ado, here's some of Singapore's biggest Mandopop stars.
---
As a starter, let's take a look at one of my favorite quartets of all time, Every Touching Moment.
This song represented Singapore in some Shanghai Expo event in 2010, but what's more important is the four Singaporean artists within this — JJ Lin, A-do, Tanya Chua, and Stefanie Sun. Just listen to it — JJ Lin's pro songwriting skills + each of their beautiful, unique voices — both separate and harmonized together — really creates something that you shouldn't miss out on.
WHY this is so underrated is still beyond my understanding, but let's just get into some Singaporean spirit here.
---
Tanya Chua 
Tanya Chua — Singaporean singer-songwriter, three time Best Female Singer of the GMAs, one of the "Big Three" of Singapore (along with Stefanie Sun and JJ Lin) — has come a long way, releasing her debut album, Bored, all the way back in 1997. All things aside, her voice is seriously amazing, and she's also a capable songwriter and music producer, too.
Probably one of my favorite songs by her is Parabola — everything, from the song to the lyrics is just seriously on point.
人们虚假又造作 总爱的不温不火

Humans are hypocritical and pretentious; they always love with moderation

我们用真心就不会有差错

As long as we are sincere there will be no mistakes

我没想过 我会难过 你竟然离开我

I never thought that I would be sad; You dared to leave me

爱沿着 抛物线

Love follows its trajectory

离幸福 总坠落的差一点

It always falls a little short of happiness

流着血 心跳卻不曾被心痛削減

Blood flows, but heartbeats have never been stopped by heartache

真真切切

Truthfully, sincerely

青春的 拋物线

The trajectory of youth

把未來 始於相遇的地點

Extends to the starting point, predicting the future

至高后才了解

Only until reaching the high point does one realize

世上月圆月缺只是错觉

The phases of the moon, as viewed from the earth, are only illusions
Please forgive me for giving such a rough translation of these beautiful lyrics. 😥
More popular songs by her include  《空白格》, 《陌生人》, etc.
Here's her latest release, 《停格》. The simplistic arrangement and guitar instrumental really gives room for her emotional voice to truly shine.
Aside from writing her own songs, Tanya has also written quite a lot of songs for other artists, too — Stefanie Sun's 《第六感》,Jolin Tsai's 《我》,and Na Ying's 《长镜头》are just a few of the more well-known ones.
Side note: I seriously love above music video. 
In fact, renown singer-songwriter/producer Jonathan Lee has praised her for being a "musician" rather than a mere "performer", and even gave her a handmade guitar in appreciation.
Tanya definitely deserves a two thumbs up for her musical contributions, no?
---
Stefanie Sun
Arguably the most popular female Singaporean singer like ever, Stefanie's self-titled debut, 《孙燕姿》which was released in 2000, had already sold 3.8 million copies in Asia — and that's her debut we're talking about.
One of the tracks within that first album, "Cloudy Sky" 《天黑黑》, was both in Mandarin and the traditional Hokkien (Thiⁿ-o͘-o͘, beh lo̍h-hō͘ as part of the chorus), and is one of those renowned classics that you've basically have had to have heard before. It's also the first song I've heard by Stefanie, and oh my goodness but her voice. While it's not particularly powerful, the unique quality just immediately justifies her widespread success.
Unfortunately, in a medley for the Golden Melody Awards, she went off-key — that is, basically shattered her image as a great vocalist. But accidents are accidents — one month later, Stefanie re-did the medley at her concert and received great praise for both her rendition and the concert.
Another one of Stefanie's classics is 《愚人的国度》, which was released in 2009.
On February 14, 2014, Stefanie released her latest album, "Kepler"; the titular track, "Kepler", which was written by Hush and produced by Stefanie herself, got Stefanie nominated for Best Producer (Single) in the most recent GMAs.
While she doesn't write her own songs, Stefanie actually wrote the lyrics to JJ Lin's "She Says" — which for once is actually on par with JJ's composition.
等不到天黑 烟火不会太完美

Cannot wait until the sky darkens; the fireworks won't be too pretty
"She Says" is definitely one of JJ's more popular songs, so to speak, and here is the full English translation.
Aside from her vocal and musical talents, what I admire about Stefanie is how she can take down that 偶像包袱. Last year she was spotted in line at McDonalds, but what shocked everyone was that she was in a T-Shirt, shorts, and flip flops. >_< Netizens came out to remark that she looked like an auntie. In response? Stefanie posts this:
The one thing I might have to complain about is that her 2015 single release "RADIO", sounds, well, a bit generic. But otherwise, she's definitely not only one of the most influential Singaporean artists, but also one of the most influential Mandopop artists in general.
---
Kit Chan
Kit Chan released her debut, 《心痛》, into the Taiwanese market in 1994, but was also the first Singaporean singer to break into the Cantopop market.
In 1997, her popularity in Hong Kong rose when she starred alongside Jacky Cheung (Heavenly King of HK, anyone?) in his musical Snow. Wolf. Lake. She's also played Teresa Teng in a 1998 musical.
Kit Chan became the first solo artist to perform the National Day Parade theme song, "Home", which is really well known. In fact, it started the tradition of pop artists performing NDP theme songs annually.
She was appointed a World Vision Singapore goodwill ambassador, the National Youth Council's first Youth Ambassador. From 2004 – 2010 Kit Chan took a hiatus in her performing career for her studies and charity work.
In 2015, she became the first Singaporean singer to enter Hunan TV's singing show "I Am A Singer" (JJ Lin being a helper-singer doesn't count).
Though she was eliminated in the first round, and failed to get "revived" in the revival round (by one place :'(), let me just say that I was totally amazed by her classic yet elegant and refreshing style. Unfortunately, as "I Am A Singer" is ultimately a popularity contest and the voters tend to prefer people like G.E.M. who like to belt high notes, this sort of result wasn't all that surprising.
However, this did give Kit Chan an opportunity to break into the Mainland, too.
If anything, we can enjoy this beautiful medley of songs.
Enjoy a playlist of Kit Chan's music here.
---
JJ Lin
If you've read blog posts from Just A Muse, you're probably aware that there is no lack of JJ Lin posts there. Or maybe there's not enough. Who knows?
moon148 is basically the residential expert (who *ahem* does not have an unhealthy obsession) of JJ Lin. Or not; he's constantly surprising us every single day.
I could rant over why he's basically [one of] the most talented performer[s] AND musician[s], like, ever (because — don't deny it — it's true), but life goes on.
Before JJ's debut in 2003, he actually had already written a number of songs for other artists — more notably Cyndi Wang's 《当你》 and A-Mei's 《记得》.
Later he also wrote popular songs such as S.H.E.'s 《一眼万年》,Fahrenheit's 《只对你有感觉》,and Claire Guo's 《心墙》. All of those songs, among others, he's covered in his concept album "She Says" — that is, covers of songs he's previously written for female artists.
JJ is basically known for his songwriting skills; sure, it's impressive if you write your own songs, but when other people want you to write songs for them, that's when you know you've got serious talent. I think it's safe to say the number of songs he's written for other artists is at the very least nearing the three digits.
Aside from writing songs for other artists, JJ has in recent years begun to produce and even arrange/ perform the background instrumentals for those songs, too. JJ was one of the five main producers of Jolin Tsai's latest album, "Play", and wrote and produced the "Shine" portion of Eason Chan's latest Mandarin album, "Rice & Shine" ("Getting Ready" is amazing, too).
A more recent song written and produced by JJ Lin is Hong Kong artist Kay Tse's Mandarin hit《跟着眼泪转弯》, which was released in June.
As for his own works, aside from 2012, ever since his debut in 2003, he has been releasing one high-quality studio album a year. He's also been the music director of the movie 《夏日乐悠悠》, which stars Eddie Peng and Angelababy; aside from singing the theme song "Love U U" (from the English title, "Love You You"), he actually went and directed the soundtrack.
His most recent album, "Genesis", was released at the end of 2014, and his upcoming album is slotted for a December release, too.
His most recent song release was actually only a few weeks ago — I posted about "Roll On" earlier here.
One thing that especially stands out about JJ Lin is the sheer number of collaborations he's been partaking in. And it's not just any artist that he will collaborate with — pianist Lang Lang, fellow Heavenly King of Mandopop Wang LeeHom, A Shin from Mayday, and G.E.M. freakin' Tang are just a few. And when he's already collaborated with the top Mandopop artists? He goes international — what with being featured in Jung YongHwa's solo album, getting Jason Mraz to sing with him, and guest appearing in Ayumi Hamasaki's music video.
All successes aside, however, what I truly admire is how he still has that humble mindset to continue and create high-quality music.
One of the things I might criticize him for is how he maybe might care a tad too much about getting the awards, or how there must be that one song in the album that's especially for the mainstream audience. Or, really, how he shouldn't be overworking himself. I really do love that he can consistently come out with good music instead of forcing us to wait for years before something new arrives, but I hope that after 2008, he's learned his lesson.
Another thing I'd like to stress in this is that JJ Lin sings so much more than just ballads. While his earlier hits (that were really, really popular) were experimental pieces like "River South" or "Cao Cao" (or– though it's not very popular — one of my absolute favorites, "Eternal Life") that fused Western styles of music such as R&B or rock with the traditional 中国风 (Chinese instrumentals), his chart-topping songs have been as of recent just love ballads (although "Roll On" actually was No.1 on the Taiwan/HK chart on QQ Music). Admittedly JJ does quite a lot of them, and they all sound good, but it gives people who aren't JMs sort of the wrong impression about the type of artist he is. (Have you heard "Streets Old Shanghai"? "No. 89757"? "K-O"? "Heaven's Kiss"?)
I am just SO GLAD he chose the use "Brave New World" as the very first promo for his latest album.
For Singapore's 2015 National Day Parade JJ sang the "feel-good version" of an all-new theme song, "Our Singapore". Dick Lee, who wrote this song, did a more mournful rendition to mourn the loss of Lee Kuan Yew.
It's really cute and upbeat and everything. 😀
(As for the music video — is it just me, or does this look like a commercial for Singapore, and JJ Lin is like the celebrity spokesperson?)
---
BY2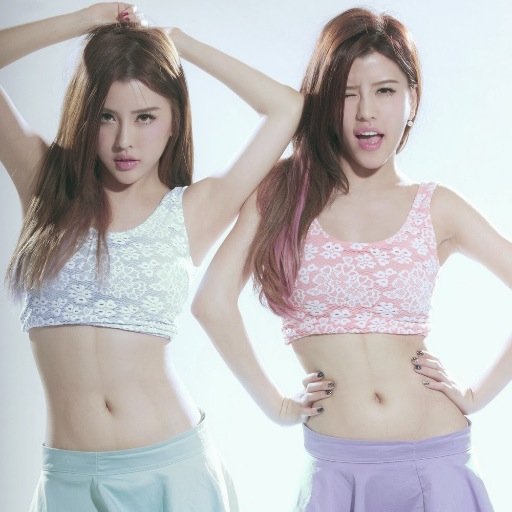 Did you know? Yumi and Miko are actually Singaporean!
Though they have yet to sing any theme songs for the National Day Parade, ever since their third album release in 2010, they've rose to fame and prominence and are easily the best all-girl duo that I know of. Having debuted in 2008 (and featured in JJ Lin's "High Fashion", which I actually have A LOT to say about), they just released two singles off their new album "Cat and Mouse" — "Back in the Days" and "Cat and Mouse". You can read up on my reviews here.
As for the plastic surgery they've undergone — to be honest, I don't really care about it. Even if they became more physically attractive, if their songs started losing their amazing quality, then I would stop listening to them.
Anyhow, both of them are only 23, and they still have quite a long way to go.
Enjoy a playlist of BY2's music here.
---
A-do
Once a construction foreman, A-do's talent was noticed by OceanButterflies and he soon signed to the company. His debut album, which was released in 2002, sold over 1 million copies throughout Asia.
Admittedly, I don't really listen A-do's music, but just listening to "Every Touching Moment", and "He Loves You Very Much", you can tell that his voice is really something special. A lot of his earlier songs, including the titular track of his fourth album, "I . . . Do", were written by JJ Lin.
Listen to a playlist of A-do's music videos here.
— moon148